Michigan Bat Control Services
Removing Bats from house or attic space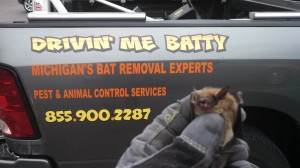 Drivin' Me Batty LLC is a locally family owned Michigan bat control company that provides professional bat removal services for your bat problems in the attic or walls of your home office or business. We are a bat exclusion specialist providing full service for bat control and prevention. From the removal of single bats from houses to total bat filtration systems and one way door exclusion programs to bat guano feces removal and full attic cleaning and restoration.
It is very common for bats to make their way into the living quarters of homes, offices, or businesses. Bats in the house typically means that a bat colony has made its way into the attic space or walls of a house. It is possible for a single bat to get into homes without a colony actually roosting in the attic space but more often than not once you see a bat flying in a house or business it is more likely that a bat colony has found entry points and has made a roosting area.
Most noises or scratching that people hear in the walls or ceiling comes from bats that are roosting in attics especially when these noises are heard at night with the most activity at dusk and dawn. Bats in the basement are also very common since bats drop down wall cavities to find shelter and heat. Unfinished basements are easily accessible for bats and small animals to drop down to the trusses and duct work as seen here.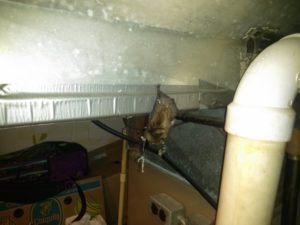 Drivin' Me Batty LLC provides all the professional bat removal control and prevention services needed to guarentee the exclusion of bats from any structure and keep them out for good.
Complete bat removal is a multi part process which includes:
Initial Inspection
Call and set up an appointment for one of our skilled technicians to come evaluate your home, office, or business. A full inspection is provided with attic access and total exterior bat inspection to locate all entry points and areas in need of repair.
Bat Exclusion
The core of the bat removal process is to repair the open access points where bats are entering attics of homes and set up a live bat exclusion system consisting of one-way doors installed in the high bat traffic areas to filter out the bat colony in attic spaces.
Re-inspection
To guarantee the bat removal process was successful a re-inspection is done 30 days after the initial bat exclusion to ensure satisfaction with the removal of bats from attic space and to remove exclusion door system and complete sealing of home.
Attic Restoration
This last step is for more severe bat infestations when the home owner has extensive damage to their homes attic space. Bat feces (guano) causes structural dangers and also health risks with the growth of mold and fungus which can be hazardous to residents. Complete attic restoration and spot cleaning are available to remove, disinfect, and mold treat contaminated areas from bat roost.