[vc_row][vc_column][vc_custom_heading text="Bat Exclusion Professionals Serving Michigan" font_container="tag:h1|font_size:24px|text_align:center|color:%23dd3333″ google_fonts="font_family:Lato%3A100%2C100italic%2C300%2C300italic%2Cregular%2Citalic%2C700%2C700italic%2C900%2C900italic|font_style:400%20regular%3A400%3Anormal"][vc_video link="https://youtu.be/b51WWlIuBds" align="center"][vc_column_text]
We use a bat exclusion system that filters bats out from the attic space or walls of any structure whether its a home, office building, or business. Our one-way bat exclusion doors provides an exit for all bats but does not allow any access for them to return. It is impossible to retrieve all bats by hand since they typically will drop down the wall cavities and burrow under the insulation of your home to find shelter and warmth. An exclusion door system is the only true way to remove the entire colony of bats and to guarantee they can not return. All other possible entry points must be repaired and sealed to ensure they will not come back the following season, bats are very territorial and if all access points are not closed off it is more than likely the colony will come back.
Killing bats you find in your house does not solve the bat problem and the fact that bats are a protected animal both state and federal means you need a safe and humane method for live bat exclusion and relocation. True bat exclusion involves locating and sealing the actual access points that the bats are using to enter the attic space. The remaining bats and future bats will still find their way into your attic or similar roosting space until you locate and seal all access points since bats are extremely territorial creatures. Bats are NOT rodents and therefore will NOT chew their way into your house if you close off the openings however if nothing is done to exclude the bats they will never leave on their own.
Some of the common areas that are repaired in our bat exclusions are illustrated below.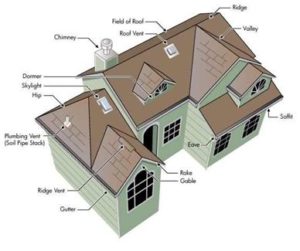 Most noises or scratching that people hear in the walls or ceiling comes from bats that are roosting in attics especially when these noises are heard at night with the most activity at dusk and dawn. Although bats are not trying to get into the living quarters of homes it is possible and from time to time a bat can be found flying through the house. Bats in the basement are also very common since bats drop down wall cavities to find shelter and heat. Unfinished basements are easily accessible for bats and small animals to get into the living area and disturb the residents.
Performing a successful bat exclusion takes attention to detail and meticulous searching for openings 1/4″ or bigger to be sealed and repaired if you want to guarantee the removal of a intruding bat colony. Their are different methods for creating a one way exclusion door to relocate bats from bat netting, exclusion tubes, and bat cones. All of these use similar techniques for proper bat control and only a wildlife bat control specialist can know which method is best for your specific need.
[/vc_column_text][vc_custom_heading text="Bat Exclusion Information Request" font_container="tag:h2|font_size:26px|text_align:center|color:%23dd3333″ google_fonts="font_family:Lato%3A100%2C100italic%2C300%2C300italic%2Cregular%2Citalic%2C700%2C700italic%2C900%2C900italic|font_style:400%20regular%3A400%3Anormal"][/vc_column][/vc_row][vc_row][vc_column][/vc_column][/vc_row][vc_row][vc_column][contact-form-7 id="4472″][/vc_column][/vc_row]